Live Webcasts Add Sparkle to This Family-Run Jewelry Business
Nobody ever shopped at Moriarty's Gem Art in Crown Point, IN, because they wanted common jewelry designs. Run by a family of expert designers and gem cutters for over 30 years, it's been the go-to destination for colored gemstones that many shops don't even carry. So when the pandemic forced the store to close, suddenly the ability for buyers to examine the jewelry close up was gone.
"We had to come up with different strategies to keep the business going," says Jeff Moriarty, the store's marketing manager. The main strategy: direct foot traffic online and operate through e-commerce.
More than a website, a way to connect
The first step of building a strong e-commerce strategy was to pursue an idea the Moriartys always had on the back burner and never really had the time to develop: video content and live virtual jewelry shows.
"Two weeks into the crisis, we started doing livestreams through YouTube and Facebook," Jeff explains. The shows were both educational and commercial, showing in real time how his father and the store's founder, Steve Moriarty, cuts and polishes gemstones. From there, customers could buy them online.
Steve Moriarty spent many years traveling to Africa and Asia to find the finest stones, a meticulous art form that had built acclaim for his work across the internet. Because he was known in the jewelry world and the store had a strong following online, the live shows quickly began to generate up to 1,000 viewers.
Each show, which took place monthly, let visitors view items, ask questions in the comment section and then later buy them online through special discount codes offered via the livestreams. Pre-pandemic, the shop's website generated most of their online purchases around the holidays, bringing in 20% of their overall revenue. As the business began to heavily promote their e-commerce presence and webcasts, online sales jumped to 50% of their overall revenue throughout the pandemic. 
Creating a digital strategy
The growth encouraged the business to begin to market more widely. Google Ads, social media and email blasts to their customer lists helped spread the word about the shows.
Though the pandemic has caused many businesses to turn to online shopping, the Moriarty Family never anticipated the explosion in online sales. For the Moriartys, combining the family's skills—Jeff's marketing know-how, his brother Michael's technology proficiencies and their father Steve's expertise in colored gemstones—allowed the jewelry store to create the successful livestream broadcasts.
Jeff promoted the shows, Michael set up video cameras and Steve hosted the presentations. Each livestream would run for two-and-a-half hours. "There's usually a bigger discount on all the stones that we did during the show," Jeff says. "And it was just a fun time where people could ask questions, learn about gems and buy them as well."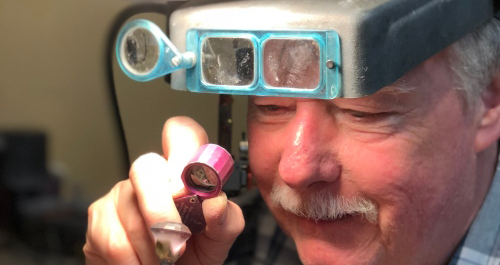 The value of a digital future
After 25 live broadcasts, Jeff reports they have helped breathe new energy into the business. Upgrading digital functions is key.
They now use Shopify as their e-commerce platform and plan to continue to add new features to their site as their products and services evolve. Recently, they've also integrated Sezzle, an alternative payment platform that offers customers interest-free installment plans. They've added an email pop-up to their website to allow the jewelry store to collect email addresses they can later use for marketing purposes.
"Our family has always been pushing e-commerce," says Jeff, "but with this last year, it's a very big push for us now."